Quicksilver's environmental division, Reef Biosearch, was founded in 1986 with the aim of combining tourism, education and research, highlighting our passion and commitment to the future sustainability of the Great Barrier Reef.
Led by our team of university qualified marine biologists, Reef Biosearch is focused on education, research and monitoring within daily operations and the wider community. Reef Biosearch is in fact the largest team of privately employed marine biologists outside of a government agency.
Our guests benefit daily from their extensive and passionate knowledge of the reef systems we visit through interpretive presentations and videos on the ecology and biology of the reef, scuba diving tips and the guided snorkel tours they conduct. They are available to answer guest questions throughout the day.
With 70 percent of the earth being covered by water, there is a realisation that this watery realm requires our respect if we are to interact positively with this environment for years to come. As a basis for this respect, two key areas are emphasised – research and education. Research ensures that humans can evaluate their impacts on the environment. Education then disperses this research knowledge to the general public. Reef Biosearch's team of qualified marine biologists and educators work in both these areas.
Within the team there exists a wealth of knowledge and experience in many fields of marine research and education, particularly relating to coral reefs.
Reef Biosearch's activities include:
Significantly, Reef Biosearch has the longest logbook database of marine observations on the Great Barrier Reef, now ongoing for some 3 decades.
For more information, check out Reef Biosearch's website at www.greatbarrierreefs.com.au
An innovative, scientific Reef Restoration Research Project is underway at Quicksilver's platform, right in front of you, here on Agincourt Reef 3.
This important project, conducted by Quicksilver and researchers from Reef Ecologic, is aimed at helping to preserve the significant ecological, social and economic values of the Great Barrier Reef World Heritage Area.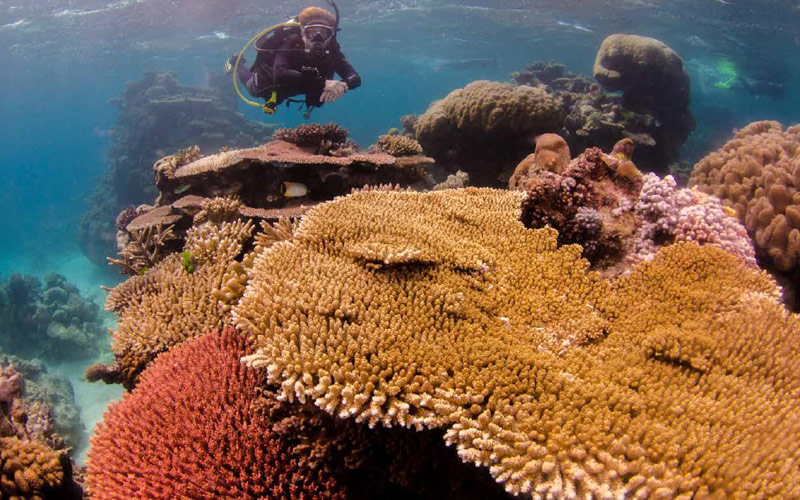 Healthy corals
What led to this Reef Restoration Project?
Due to a combination of natural events, including cyclonic wind and waves several years ago, a patch of reef close to the pontoon was damaged. As a result, an area of coral rubble formed and with an unstable substrate, the natural recovery of new corals was impeded.
After consultation with the natural area managers, the Great Barrier Reef Marine Park Authority, we were issued with the permit to conduct a rehabilitation research project at this site.
It's the first time this type of reef restoration strategy has ever been undertaken on the Great Barrier Reef.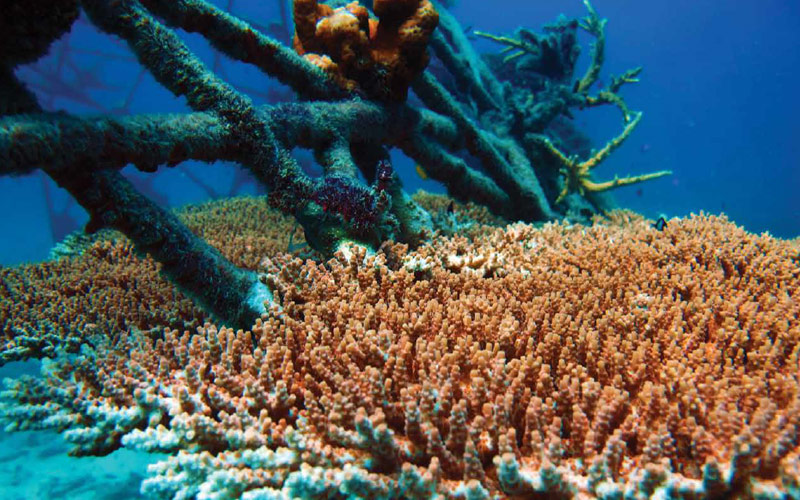 Coral colonising on mesh structure
What does the Project involve?
Quite simply, the Project involves the installation of a mesh structure underwater to grow coral connected to a power source.
To do this, three steel mesh panels of 1.5 metres (5ft) x 3 metres (10ft) have been placed over the coral rubble. This stabilises the rubble so small coral "recruit colonies" can be attached onto the mesh.
The mesh is attached to a power source and 5 volts of electric current is delivered to the mesh from batteries on the pontoon. This has the effect of assisting the corals to deposit calcium carbonate (coral skeleton) at a rate up to three times greater than normal.
So we can evaluate the success of the Project, three identical sized "control" mesh panels with similar coral colonies attached have also been placed underwater, but these mesh panels are not connected to a power source. This enables us to compare the growth rates of corals on the mesh with the power source, to those without.
When snorkelling near this area, you may see the research site. It is safe and poses no threat to any marine life.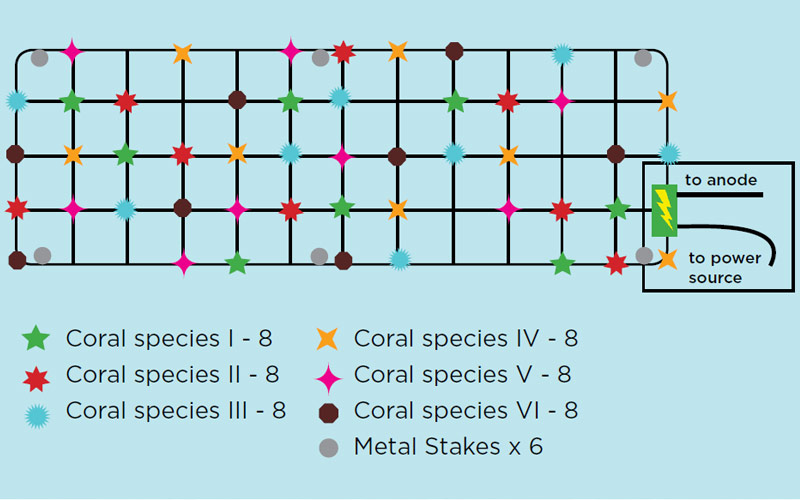 Diagram of experimental mesh design
When did the trial start?
The mesh was installed in the research site over a period of three days in mid July 2018. The coral colonies will be measured regularly throughout the trial period to compare growth rates.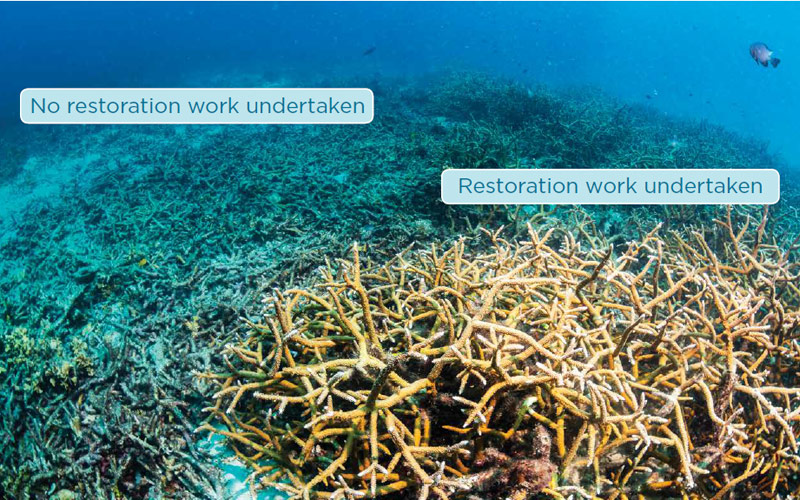 Impression of comparative result
What do we hope to gain?
It is hoped that this rehabilitation technique, which has never been attempted on the Great Barrier Reef before, will assist in making areas such as this research site, more resilient to stress in future natural disturbances.
If successful, this technology could help support reef resilience in many locations across the Great Barrier Reef and other reef systems in the world.
Who is conducting the Project?
This research project is a partnership with Quicksilver's Reef Biosearch team of marine biologists, Reef Ecologic and the Australian Government's National Environmental Science Program with funding support from AMPTO.
---
Go back