Unique Water Access Lift for Wheelchair Passengers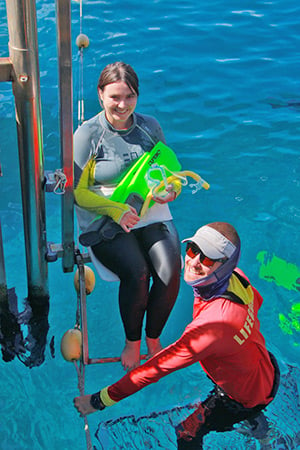 Our primary vessel, Quicksilver VIII to Agincourt Reef is the most suitable vessel for wheelchair passengers. There are occasions however, when this vessel may not operate and back up vessels are used that do not have wheelchair facilities. This is often not known until 24 hours prior to departure. We recommend guests call the office 24 hours prior to travelling to confirm their details. On Quicksilver VIII, there is an oversized toilet cubicle available suitable for most wheelchair passengers.
Quicksilver's Agincourt Reef platform features a water powered lift (the only one of its kind on the Great Barrier Reef) to enable access to the water for wheelchair passengers. Passengers can swim directly off the lift's chair into the weightless environment of the reef where they can snorkel and explore at their own pace. This is available only on the Agincourt 3 floating platform (Quicksilver VIII). At the Outer Barrier Reef there are ramp facilities from our vessel to our floating platform, however access to the underwater observatory, swim platforms and our semi-submersible coral viewing vessels is by stairs only. Collapsable wheelchairs are normally easier due to the smaller size & weight.